Since the mid-2000s, some researchers have been interested in using a carbon fiber plate to increase the performance of people who run. There is currently no scientific consensus on the effectiveness of carbon plates for improving performance. However, a new study published in the Journal of Sport and Health Science, which specifically assesses the impact of adding a carbon plate to increase running performance, is in the process of being published. It therefore tries to answer the famous question: can a carbon plate increase your running performance?
What has been tested?
The researchers used the Nike Vaporfly 4% shoe and compared two versions:
An untouched version;
A modified version by cutting it widthwise in 6 places on the front of the foot.
Then the subjects completed a test to assess the changes to their running mechanics and a test to assess the impact on their race economy.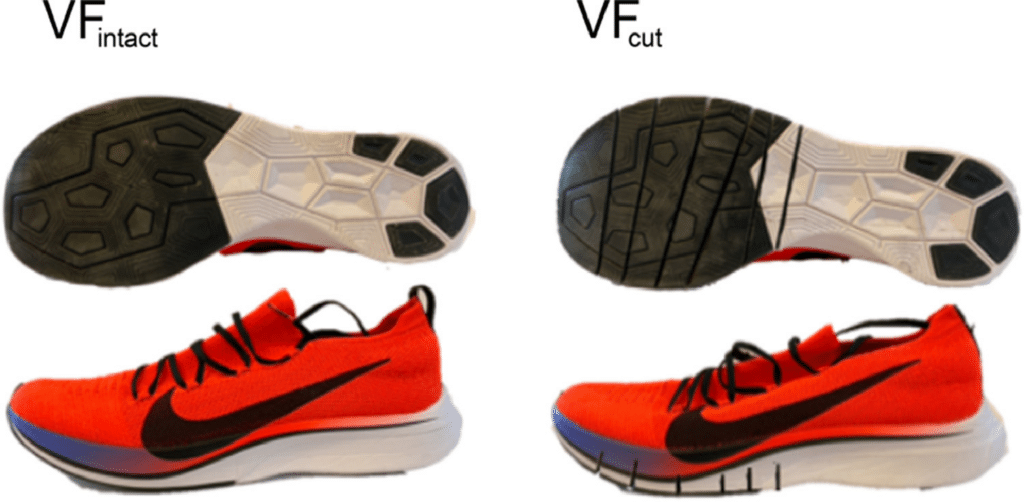 Unlike previous studies, this study makes it possible to isolate a single variable: the impact of the longitudinal stiffness of the shoe on running economy.
Indeed, by using exactly the same shoe in both conditions, but by making one of the two shoes more flexible, we are able to isolate the impact of rigidity.
What are the results ?
To assess the impact of shoes on running economy, subjects had to run for 5 minutes on a treadmill at a speed of 14 km/h.
On average, participants used slightly (0,55%) more energy running with the modified shoes than with the intact shoes. The difference however, was not statistically significant, which means that the difference could be due to chance.
What is interesting to note is that some individuals became much more efficient with the modified shoes, while others became less efficient, as shown in the table below: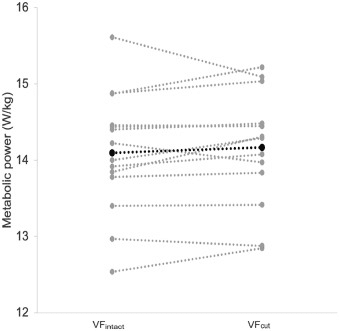 These results surprised researchers who expected that the addition of a curved carbon plate would significantly increase running economy.
However, these results are consistent with most studies that find very small differences in running economy between shoes with or without a carbon plate.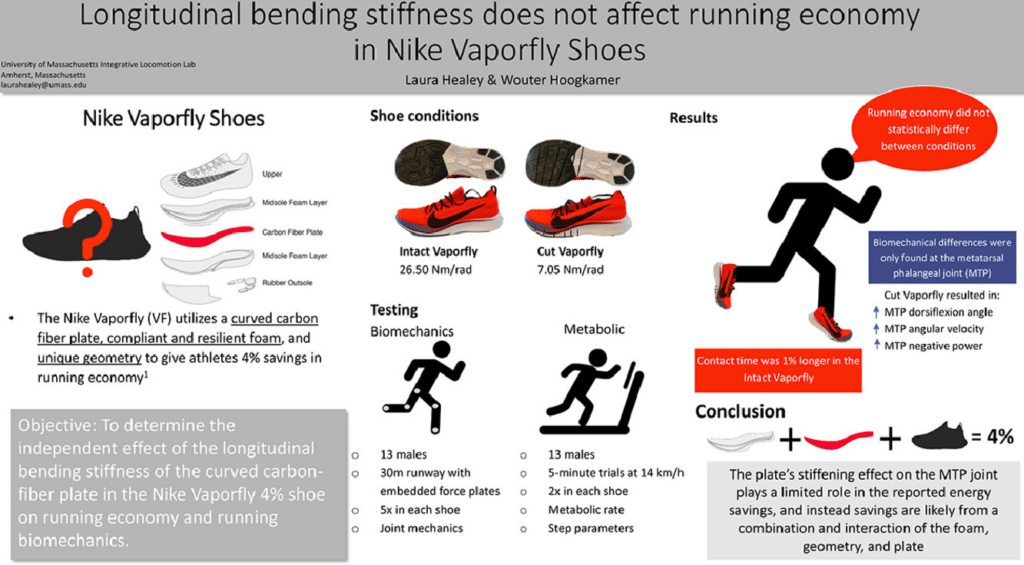 What to get out of it? Can a carbon plate improve your running performance?
According to the researchers, the impact on theNike Vaporfly running savings 4% would be due to the interaction of the foam used in the midsole with the shape of the shoe and the carbon plate. The carbon plate itself would thus have a relatively negligible impact.