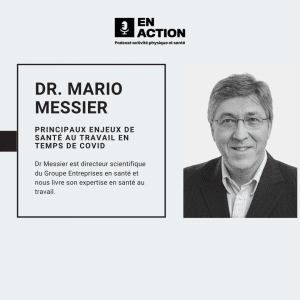 The issues related to COVID on health in the workplace are extremely important. To discuss this, we received Dr. Mario Messier, Scientific Director of the Healthy Business Group.
First, he will summarize the outfit of the most recent Health and well-being meeting in the workplace, then various issues will be addressed:
1:03: what are the main points that emerge from the gathering?
The theme this year was benevolence, adaptation and resilience. One of the values ​​to put forward to adapt is benevolence. We had more than 350 participants, so we are satisfied. In summary :
Sonia lupien
How to make your business iso-stress in the time of COVID? She reminded us of what causes stress:
Control
Unexpected
New
Ego
She reminded us that it was therefore normal to feel stress. She gave 3 practical tools to reduce your stress level:
Abdominal breathing
Move
Laugh (with or without reason)
Pierre Cote
He explained to us that this is the first time in 16 years that the level of happiness has been so low. He told us that the impact was even greater on the youngest than on the oldest.
Exercise would also be a determining factor, as would job satisfaction, which is a direct result of the work climate.
13:15: What is the most worrying at the moment in relation to health in companies?
The biggest threat in business is the mental health of employees. COVID has brought many sources of stress and removed one of the greatest protective factors: social ties. Several surveys have shown that stress has increased significantly.
This is where the workplace can help protect against stress. There are risk factors and protective factors. Benevolence can precisely be an element of protection.
24:18: How to protect the mental health of employees?
It's simple, but not easy: senior management must make it a priority and say so.
Then, the company can help its employees by ensuring that its managers support the employees and by generating opportunities for team building.
We also spend the ax in activities that are not essential.
We must also find ways to provide recognition from a distance.
And finally, don't be afraid to ask employees what might help them.
29:50 Is it worth working on the overall health of employees these days, or do we need to focus on more essential tasks?
Even though mental health is an important issue, we cannot stop working on overall health. This is why we must continue to promote physical activity, through actions such as Corporate Challenge, it's essential.
Social health is more difficult to work on. You also have to learn to be good with yourself. We are lucky to have technological tools, which do not replace direct interactions, but it is still an advantage to use these technologies.
36:15 How will the pandemic have affected the world of work and what will be the long-term impact?
First, we will not come back to work 100% as before.
In addition, we must prioritize the autonomy of employees and not take anything for granted. To make our companies agile and more adaptable, we need to give companies autonomy and freedom of initiative.