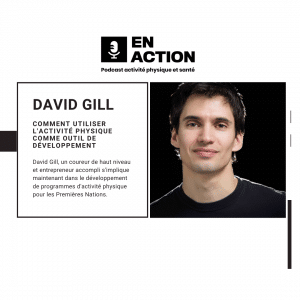 In today's episode, we talk to David Gill about promoting physical activity among First Nations. We ask ourselves the question: how to use physical activity as a tool for social development?
Who is David Gill?
David Gill is a former high-level athlete who specialized in the 800-meter distance and was part of the national track and field team.
He is the founder of TotalCoaching and Phydeo; two applications for health professionals.
Today, he is involved with the First Nations through various projects, such as the Ancestors Challenge.
Daniel: you are a member of the First Nations, how has that influenced your sporting career?
David: For me, it was a big advantage in my sports career and after sports. It was a way of standing out and getting noticed.
Daniel: how is life in a community different?
David: First, I invite people to go and discover the communities. It's weird to live so close and at the same time to feel so far away.
Living in a community is a bit like living in a small, remote community. There is obviously a lack of opportunities and often the activities depend on one person.
Fortunately in my career, there were the Indigenous Interband Games which were the only event in which we could participate.
Daniel: Is there a risk when all the activities are on the shoulders of one person?
David: Yes and that's a problem by the way. Often, in communities that are more remote, people come and get involved for a few years and then leave.
More and more, what we are trying to do is work with the communities to develop infrastructures so that the initiatives are sustainable.
Daniel: you are currently working on various projects related to the promotion of physical activity among the First Nations, how does it work?
David: A few years ago I was starting to be less satisfied with working in my 2 companies, so I decided to work only 1,5 days a week and volunteer in my other projects 3,5 days a week. .
So I now have 3 major projects that we organize in partnership with different organizations.
Ushket 5 km : a program to support people who want to get to the first 5 km. That's 80 emails that include a workout and a video I'm doing. I explain how to choose your shoe, if the stretching is important, etc. It's really interesting! What people are asked, in exchange for the free program, is to share their workout every day on the Facebook group. It's a challenge that's really more geared towards adults.
The Fox Challenge : we try to make foxes. A fox is someone who travels with a snowshoe, running or walking, a distance of 2 km. If you are successful, you can try to become a porcupine, which means walking 4 km. The big advantage is that when you get to 6 km, 8 km or 10 km, people start to change their lifestyle to manage to run those distances. It is a challenge that is really for everyone, young and old.

The Ancestors Challenge was born because we were looking for something that would hook the youngest and give them a feeling of belonging to school. Dropping out of school in communities is still a big problem, so we want young people to be proud of their school. So I proposed a concept to replace the event they were organizing so that we could hold the event during a pandemic. This is a project that I am working with Marco Bédard and we are going to start delivering it following the pandemic.
Daniel: do you see yourself as a social entrepreneur?

David: I have long defined myself as an entrepreneur. For 1 years, I have considered myself more as an activity or indeed, as a social entrepreneur. It is through these projects that I go to bed at night and that I have the satisfaction of having done a job!