 We spend a large proportion of our waking time at work. It is therefore more and more regular to see employers get involved in promoting healthy lifestyles in their community.
How can companies be supported in these steps by their employer? This is the subject of our interview with Véronique Grenier, Advisor, management practices favorable to work attendance and health at Beneva.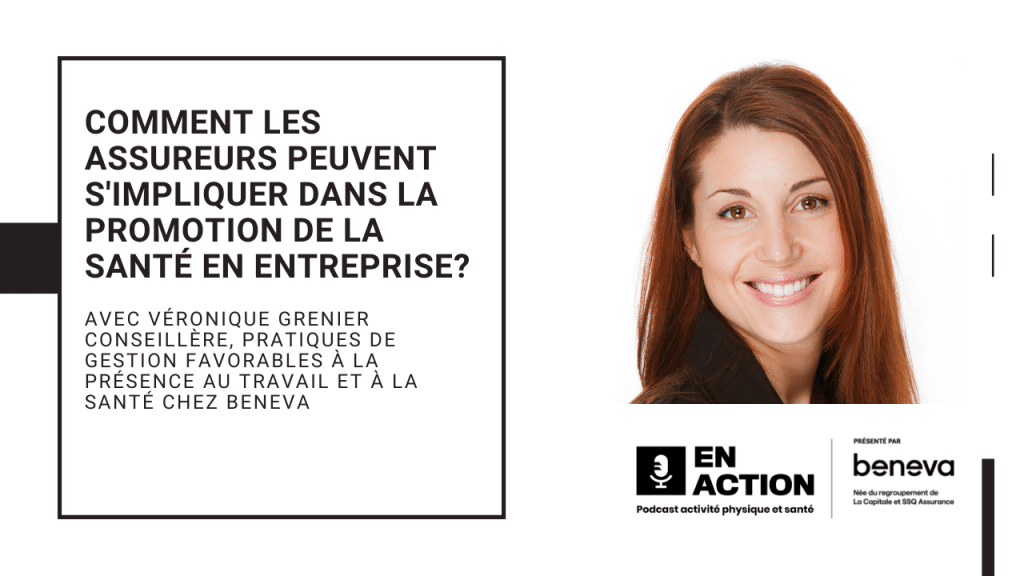 Daniel : What are the reasons that prompted Beneva to become a presenting partner of the Corporate Challenge?
Véronique : Health has always been one of our priorities and it is a deeply rooted value with us. This is reflected in our products and our actions, both on the employer's side and on the insurer's side.
You should know that we have our own internal health program and that Beneva is certified Healthy businesses, which is in fact a seal of excellence in organizational health.
We therefore developed our internal health program for our employees, above all, which allowed us to develop a program for our customers. In short, we offer our customers what we offer our employees!
I would say that the orientation is even more marked since the birth of Beneva. Born from the merger of La Capitale and SSQ Insurance, Beneva is very involved in the community.
All this to say that the Corporate Challenge meets a common goal, with similar values, which is to improve the health of people and businesses. It also allows us to offer an activity that is accessible to everyone, that promotes people's health and encourages them to move.
Through this partnership, we want to play a leadership role with other companies by demonstrating the importance we must give to the health of our employees.
Daniel : How does group insurance work?
Véronique : Group insurance can seem a bit complex.
Many players are involved in the process:
the insurer providing a service;
the client, or the contract holder, who happens to be the organization being insured. It can be either the employer or the union, or both.
the consulting intermediary who acts as adviser to the client.
policyholders, who are also called clients or members.
Various guarantees are offered in group insurance such as salary insurance, travel insurance, drug insurance, etc.
Daniel : How is the integration of the corporate health aspect in the insurance options going?
Véronique : It fits in several ways actually. It could be the consulting intermediary who informs the company that the insurer offers the corporate health service, or who offers it when the organization encounters internal challenges that could be improved by promoting corporate health. .
You should know that as insurers, we have access to a lot of non-personalized data, such as the consumption of drugs for example. This allows us to report to the company and offer services tailored to their needs.
Internally, we have a team of professionals in the health field, specialists in nutrition, kinesiology and soon mental health. We are therefore able to offer health-oriented services and activities in the workplace.
Daniel : What does your daily work look like? How and how often do you track statistics?
Véronique : I would say that our daily life is quite varied but that it generally includes a lot of support with clients and various training for managers.
Innovation is also very important at Beneva. We are therefore constantly on the lookout for new practices in order to be leaders in our field.
We must not ignore our involvement in various research projects related to health. Indeed, as we hold a significant amount of non-personalized data, it is very useful for research.
As far as this data is concerned, it does not take place from the outset. Everything will be analyzed following a customer request or research projects, for example.
Daniel : How does your offer stand out when compared to that of health service providers? Why should a business use your services rather than going independently by selecting piecework services?
Véronique : You should know that if a company decides to offer piecework services without measuring the indicators, that represents a certain risk. This is because the selected services may not be appropriate.
At Beneva, we first measure by probing the needs and interests in the company. This allows us to be sure to implement the right activities and obtain general satisfaction from the staff. We also have the financial issues that guide our practices.
Finally, you should know that our schedule gives us a certain closeness to the customer, which has the effect of making our approach very human.
Daniel : Finally, how has the pandemic affected your daily work?
Véronique : In addition to teleworking, we have experienced an increase in requests related to mental health. It forced us to put measures in place, such as opening a free mental health support helpline. We have also redesigned our offer to offer virtual services, for example.
Mental health webinars offered to businesses also took shape during the pandemic. These webinars were developed in-house and we take care of the facilitation.
Finally, we were greatly asked for analytical support in order to draw a portrait of the repercussions of the past year.